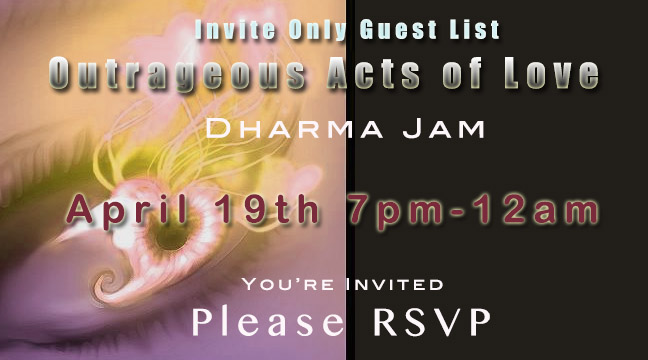 Tbird Luv and Dr. Marc Gafni have teamed up in the creation of a new series of Dharma Party events, during which she and Marc bring dharma, music, empowerment and outrageous calls to action to awesome crowds of movers and shakers in the San Francisco Bay Area.
Some of you may know board member Tbird Luv from some of the Center's events over the past year (such as the 2013 World Spirituality retreat at Esalen, and the SF Dharma Circles), where she has brought her unique music to Dr. Marc Gafni's teachings, and her collaborative brilliance to other projects with the Center.
A Dharma Party is Not just another event that leaves behind GREAT memories. Instead, those present have a chance to get inspired, and to strategically design the future with aligned relationships and projects that have the potential to make the world a better place.
Here is the invitation to the 2nd Dharma Party – coming up next week on April 19 – which was sent to a list of Bay Area locals who attended the 1st one. If you want to be invited to this Dharma Party – or any of the next ones! – let us know here. We want you there!
Knock Knock
Are you coming to the next Dharma Jam Outrageous Love Hub April 19th 7pm sharp? We've got more work and play to do together.
These last months, Marc Gafni and I have poured energy into creating a platform for you and us to co-creatively establish MORE outrageous acts of love in response to the pain happening in the world.
Three months ago we joined with over 100 of The Bay area's finest in social innovation, social justice, technology and business, the performing and healing arts and spirituality – to start the conversation of collaboratively building a beautiful world together.
We ate, drank wine, listened to great music and reflected on our purpose through the transmission of dharma.
What's Next?
What to Expect on April 19th:
Like I mentioned in January, the Outrageous Acts of Love Dharma Parties are dedicated to and created for folks like you doing amazing work in the world.
It is an INVITE ONLY private gathering. Be prepared to meet – face to face – in real depth – at least twenty NEW Dynamic PEOPLE who – if you so choose and delight – might become your partners, sacred collaborators, your outrageous love cohort. This will also be a celebration and more than just a good time.
We will make sure that you will have plenty of time to network, get your groove on, shine your radiance and get to know who's in the room.
With an element of surprise, this will Not be just another event that leaves behind GREAT memories. Instead, you'll have a chance to get inspired and strategically design the future with aligned relationships and projects that make the world a better place – if you so choose.
Outcomes of This Event Include:
To self organize and establish working partnerships
To instigate collaborations between aligned partners, players and participants under the umbrella of Dharma
To create viral Outrageous Acts of Love Globally
To experiment and explore creative ideas between us
To Play and have FUN together
More organic tapas and drinks, live music will be provided for your pleasure. We're also building an online presence for those of you of who'd like to continue to find one another, communicate and create.
Here's a video clip from the 1st Dharma Party in January, 2014:
See you on the 19th.
PS…you are absolutely welcomed to bring guests and invite those who feel aligned with this magic.
Big Love,
Tbird Luv, Marc Gafni and The Center for Integral Wisdom