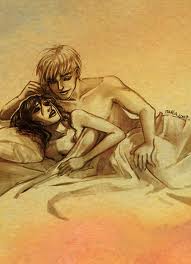 One of the key values a couple must share in the biblical myth vision is a commitment to make the world a better place. They must be lovers not only to each other but to the world. This means that they are committed to looking beneath the surface of reality to search for the sparks of the sacred that can be hidden in the most unlikely of places. This is the commitment to love as perception: to find the good – the God points – hidden behind the obfuscating veils of an often painful reality. They are committed to healing and repairing the world even as they understand that they are not in control.
Their commitment to be lovers of the world together, and not only of  each other, finds a beautiful expression under the wedding canopy. In Hebrew mystical tradition, the bride and groom break a  glass to conclude the ceremony. Why do we break a glass?  The answer in the sources is zecher le churban ha mikadah, to remember the destruction of Temple in Jerusalem. We know that the Temple with its intertwined cherubs atop the ark is the symbol of eros and love – beyond the merely sexual. The couple is affirming the mystery of love hidden in the cherubic secret. They commit to make their lives a model for living erotically as lovers in the world.
Deeper still – the Temple is a symbol of a redeemed world. A world without stomachs distended from hunger, without soldiers killed at 18 and 19, without millions of people going to sleep alone, missing the warmth and comfort of another body. The world is filled with broken people. That is something we can never forget – especially under the wedding canopy, which is a symbol of hope and healing.
When we break the glass under the hupah, the broken pieces represent all the broken people in the world. We invite all of them, from Bosnia, Rwanda, Afghanistan, Gaza and Jerusalem to come under the canopy with us. We invite them to participate in our moment of perfect joy when we are on the inside of the inside. The newlywed couple promises never to forget the emptiness. They commit to do something in their lives to make this world a better place to live, for everyone. This is the spiritual contract entered into by every bride and groom with each other. This is shared vision.
Dr. Marc Gafni
The Erotic and the Holy