Looking for more on the wisdom tradition that aligns you with your deepest creativity? In a three-part excerpt from the long version of Soul Prints, Marc Gafni writes that we can transform and raise our passion and artistic creativity into a powerful drive for the sensual and the holy, realizing that, in a redeemed world, they are one and the same. As long as our spirituality remains vapid and empty, we indeed need to repress the more primal, creative passion, lest it overwhelm us. Primal passion unrealized is soul print or Unique Self destiny unrealized.
You can view Part II of this essay in full by clicking here>>
You can view Part III of this essay in full by clicking here>>
Yetzer and Yetzirah: Raising the Primal Sparks of Creativity and Passion
by Dr. Marc Gafni
from "The Way of the Dragon" in the long Soul Prints.
Part I.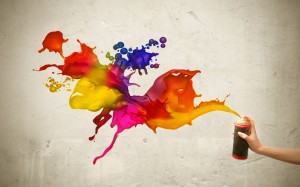 In biblical spirituality, information about God is relevant for one reason only. Information about God is information about us. We are commanded to be little Gods – to imitate God. Just as God stood at the abyss of darkness and said let there be light, so are we commanded to stand at the abyss of our darkness and say let there be light. A little bit of light dispels so much of the darkness. Further, just as God is a creator – creating, sculpting, painting, composing a gorgeous physical world – so, too, are we invited to create, to sculpt, to paint, and to make music.
Mozart, Bach, Schubert, Rembrandt, and Michelangelo created. And yet, creativity is still viewed as suspect by much of the religious community. Art per se and artists to be sure are suspected of being amoral at best and, more probably, immoral. Acting, painting, sculpture, song are held in both high esteem and moral disdain. Why? The answer, which we have already introduced in our earlier discussion, emerges from an understanding of the deep linguistic and conceptual relationship between the biblical myth terms Yetzer and Yetzirah. Yetzirah means creativity; Yetzer is best translated as primal instincts, including but not limited to libido (Freud), the drive for power (Adler, Nietzsche), and the need for meaning (Frankel). In the Hebrew language, which is the ultimate source of all biblical myth thought, Yetzer and Yetzirah are the same word, linked etymologically and conceptually. The point: I cannot create without connecting deeply to my most primal instincts.
In my earlier twenties, I attended for a short time a prestigious drama workshop in Greenwich Village in New York. When we would be preparing for a murder scene in a play, we would do exercises to help us access the murderous rage lurking untapped in the corners of our souls. I cannot create drama about murder without unlocking the murderer in myself. To create anything – and certainly for the ultimate creation, the creation of myself – I need to be able to access the most primal passions of my being. Herein lies the attraction and the danger. My primal instincts when not integrated into my fully developed self are often not channeled properly and can potentially destroy worlds. Witness Germany. My mother, who was there, told me almost every day as I was growing up that the same people who gassed Jews in the morning, listened, with great primal passion, to Mozart in the evening.
In response to this psychological reality, Biblical myth spirituality taught: "Who is heroic, he who is (Kovesh) conquers his Yetzer." And if the price is also to sacrifice certain forms of creativity, so be it. Better to be moral, holy, and not creative, than creative and immoral.
And yet having to choose between the primal passion of creativity and morality is far from satisfying!!
Visit centerforintegralwisdom.org for more wisdom teachings from Dr. Marc's writings and the other teachers of the Center for World Spirituality.