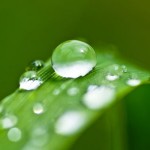 Love is a perception of the infinite specialness,  the full uniqueness of the beloved. To love another is to say Yes to their Unique Presence, to their Unique Being and Unique Becoming. The greatest of love affairs begins with a simple imprint of Yes.
Remember, we come into this world trailing clouds of glory with core knowledge of our omnipotence, beauty, infinite power, and infinite potential. And then we hear a chorus of voices for the first ten years of our lives, and the only word they seem to be saying is No, No, No. We gradually come to associate maturity with saying No. When an idea or new direction comes up, our first response is why it can't work. We are brilliant at it. Even the most simpleminded person becomes a genius when it comes to saying No. We can think up twenty reasons why it will not work before we can think up two reasons why it could. We have all become Dr. No with advanced degrees. "¨But somewhere deep inside, the Yes remains, an eternal child of your Unique Self. We know on the inside of the inside that Yes is the answer.
One of the great literary masterpieces of the twentieth century is James Joyce's Ulysses. Joyce spends reams of pages portraying the No reality encountered in the streets of Dublin by the main character, Leopold Bloom. Joyce masterfully maps the life of the archetypal human whose life is a series of unnecessary losses. The death of Bloom's son and father, his daughter's leaving, the passing of his youth, and finally the adultery of his wife.
Yet in the last scene of the book, Bloom returns home to his sleeping wife. Never mind it is a recently desecrated bed. Never mind he sleeps with his feet at her head. It is still home, the erotic haven of the inside. The book ends with a crescendo of Yes. As his wife feigns sleeping, we float along in her stream of consciousness, finally concluding with reminiscences of the early ecstatic hours of her and Leopold's love. It is a definitive return to Yes:
And then I asked him with my eyes to ask again yes and then he asked me would I yes to say yes my mountain flower and first I put my arms around him yes and drew him down to me so he could feel my breasts all perfume yes and his heart was going like mad and yes I said yes I will Yes.
The Yes here is sexual. The sexual in this passage models the eros of life. The overwhelming perfume of this sexual Yessing signifies hope, promise, and possibility in the most expanded erotic sense. For the sexual is the full ecstatic urgency of the urge to merge and the urge to emerge throbbing inside of us. This final Yes has magically transformed the seven-hundred-plus pages of modern existentialist No's. It was James Joyce who reminded us that Yes is a feminine word that signifies the end of all resistance.
The high priests entering the Holy of Holies once a year say Yes with his every step. The cherubs murmur to each other, "Yes, yes." The Temples of God and Man are built with Yes stones. The Presence of God is a great green light that says, "Yes, you are gorgeous. Yes, I need you." The Uni-verse is an open entryway, crowned by a neon Yes sign. To be lived as love is to know that""as Wallace Stevens reminds us.
After the final No comes a Yes
In those heart-opening moments when truth suddenly bursts through your everyday routines, you know that the purpose of your life is to uniquely incarnate in the story of your life the love-intelligence that governs the Uni-verse. Are you willing to utter a sacred "Yes!" to your conscious participation in the evolution of consciousness?
To awaken and say Yes to the unique invitation, delight, and obligation of your life is the reason you were born. It is the only authentic source of joy and meaning in your life. When you slumber and say No, your loneliness, fear, and contraction live in you, through you, and as you. When you awaken and say Yes, you are living as Source. When you awaken and say Yes, Source lives in you, through you, and as you.