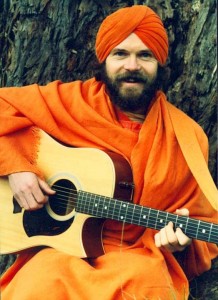 On December 4 at 9 a.m. PT, Dr. Marc Gafni will be in dialogue with Dada Nabhanillananda, known as the Yoga Dude "" a teacher, yoga activist and musician, on his free Imaginal World teleseminar series, "Creating a World Based on Love." Marc and Dada will explore Unique Self enlightenment and diverse facets from Marc's award-winning new book, Your Unique Self: The Radical Path to Personal Enlightenment. Tune in as well for special offer of a one-time-only curated set of Marc's wonderful teaching resources.
You can check it out and sign up here:
http://www.imaginalworld.com/love/marc/invite/
Acharya Nabhaniilananda normally called "Dada", is a senior meditation instructor of Ananda Marga, an authority on Yoga philosophy, a published author and a popular musician. In 2011 his song "The Love Remains" was a finalist in the prestigious Song of the Year International Songwriting Contest.
Dada was born in New Zealand in 1955 of English parents. During his early life he studied classical music and poetry. At the age of 11 he started composing music for the piano, and his teachers had high hopes of him becoming a concert pianist. However, during his time as a University student he developed a deep interest in Eastern mysticism. In 1975 he left his native land for Australia, and later Nepal and India where he studied the disciplines and philosophy of Yoga and Meditation within sight of the Himalayas, and was ordained as a Yoga Monk in 1979.
Dada plays melodic folk rock in the style of Simon & Garfunkel or Cat Stevens. He sings about spiritual experiences and ecological or human rights issues, and derives many of his ideas from myths and legends of different cultures. His early musical influences include folk singers Donovan and Don Mclean, and 70's bands Yes, Crosby Stills Nash & Young, Genesis & Santana. Dada's immersion in eastern mysticism adds a deeper dimension to his music, giving it a lasting quality.
Dada has been recording and performing since 1984, and has played on every continent save Antarctica. He frequently appears at ecological protests or alternative festivals where his songs and audio-visual presentations about the environment are always well received.