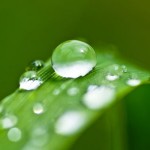 "Unique Self is the enlightened realization that you are both absolutely one with the whole, and absolutely unique. You are free from the contractions of your personality, even as you experience yourself as personally engaged in the great evolutionary unfolding of consciousness.
Realizing your Unique Self will fundamentally change the way you understand virtually every facet of your awakened life. Once we've engaged the core teachings of Unique Self, we will look separately at how these teachings fundamentally reconfigure and dramatically re-vision our under- standing of love, joy, shadow, sexuality, parenting, death, relationships, loneliness, evolutionary spirituality, malice, ego psychology, and the inte- gration of East and West.
Your Unique Self is God's love-signature written all over you. God loved you so much, He personalized himself as you. You are the indi- vidualized heart and mind of God. This is your Unique Self.
The creative process that mysteriously moves from nothing to something is the God-impulse. To live as your Unique Self means to align yourself with that process, with the ecstatic evolutionary impulse that initiated the kosmos, with the ecstasy of God, which re-creates all of reality in every second of existence.
Are you ready to respond to this invitation, to offer yourself to the infinite love intelligence that wants desperately to show up in the world through and as you?"