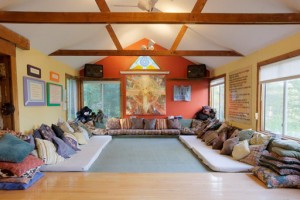 The Wisdom School at Shalom Mountain: The Seven Tastes of Sexing, March 7-10, 2013
This event on Evolutionary Tantra was held last week at the Wisdom School, co-founded by Shalom Mountain and the Center for World Spirituality, which is the locus for Marc's teachings on the east coast of the United States.
This was the 10th Wisdom School that has gathered in the last several years, each one with its own theme and exploration of a particular dimension of Enlightenment. Each Wisdom School is dedicated to the practice of evolving the Source Code of Consciousness in a particular area of spiritual practice or enlightenment inquiry. This Wisdom School shared the same theme as the recent program held at Venwoude Retreat Center in February, The Seven Tastes of Sexing. The Shalom Mountain retreat was led by Dr Marc and facilitated by two close friends and students in the private study circle, Jeff Hilliard and Shelly Reichenbach. Jeff and Shelly are Shalom Mountain leaders and have been studying closely with Marc at the Wisdom School for a long period of time.
Wisdom School at Shalom Mountain Developing Unique Expression of Unique Self Process
Jeff Hilliard and Tom Goddard are leading the development of the Unique Self process, in its particular expression at Shalom Mountain. Jeff, Tom, Nance and Marc, along with a group of leaders, are very excited to be actively engaged in developing the first Unique Self process led by Shalom leaders. Marc has taught Unique Self extensively over the last few years at Shalom Mountain, and is now working together with this fabulous leadership group of teachers in transmitting the dharma and empowering Shalom to take up the Unique Self teaching in their own gorgeous Shalom fashion.