We just completed a very special series of events at our Teaching Center at Venwoude in Holland. Dr. Marc Gafni taught two Valentine's Day events in a very beautiful church in Amsterdam. This was followed by a wonderful and very intimate two-day retreat at Venwoude on Saturday and Sunday. Capping off the 4-day weekend, we had an outstanding presentation at Nijenrode University on Conscious Capitalism with Prof. Dr. Paul de Blot, Dr. Marc Gafni, and Ken Wilber (via Skype) in front of 150 enthused Entrepreneurs.
Valentine's Day at Vondelkerk Amsterdam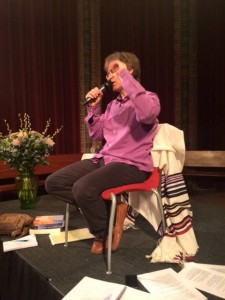 A packed house of people celebrated Valentine's Day in an old beautiful Church in Amsterdam with Dr. Marc's Dharma on Outrageous Love. It was a day of profound new dharma, deep practices, and a stunning community of Outrageous Lovers. Dr. Marc took us deeply into a practice space with dyad practices, chanting, and intimate sharing. The evening session seemed to explode–after a very quiet and subtle beginning with hearts meeting in Chant and Meditation and finally and melting open into the Inside of the Inside–with a fireworks of Dharma on Outrageous Love and Unique Intimacy.
Everybody was deeply touched, and many decided to join us for the upcoming Summer Festival of Love at Venwoude…from July 26th to August 2nd, 2014…that this year will also be the First Annual Integral Wisdom Conference on Relationships and Sexuality.
Two days of deep immersion into the "Lineage Energies"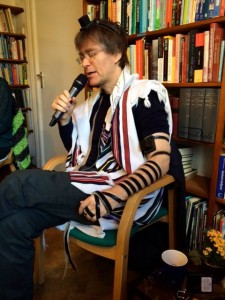 The following weekend was our first annual lineage event at the Venwoude retreat center who is our deep partner and where Marc serves as the World Spirituality Teacher in Residence. We dialed in directly to the source lineage of Unique Self teaching in two intimate and intense days of teaching. Our group practice was held in a very special and sacred place: the Library at the heart of Venwoude, which was packed and vibrantly intimate as Marc immersed us in Story-Telling, Lineage Practices and Chant–drawing especially from the Lineages of Hebrew Mysticism, Kabbalah, and Chassidim.
As one participant, Claire Molinard, posted a couple of days later on Facebook: "I am still basking in the sacred space of lineage transmission from these two magic days in Venwoude. Deep bow and gratitude to Marc Mordechai Gafni and all the wonderful people at Venwoude International."
Conscious Capitalism at Nijenrode University with Prof. Dr. Paul de Blot, Dr. Marc Gafni, and Ken Wilber (per Skype)
This week of European teaching was then capped with a shockingly outstanding evening in a packed auditorium at Nijenrode Business University, Hollands leading business school. The event featured two fabulous talks by Ken Wilber and Marc Gafni. Ken gave a brilliant talk on the nature of Integral business which was met by wildly enthusiastic intellectual and emotional appreciation by all of the participants. It was a landmark talk which is sure to set a new standard for this conversation world over.
The event was hosted by 89-year-old Business Sage Prof. Dr. Paul de Blot. Marc referred to him as –a true "living Master Yoda", honoring his life's work of establishing in Holland the entire field of Business & Spirituality and writing about it long before anybody had ever thought about Conscious Capitalism. The event started with more dramatic Dharma fireworks by Dr. Marc Gafni. Drawing connections, engaging hearts and minds, and quoting freely from at least 20 different books while always bringing it back to the core questions he asked passionately: "Who are you? And are you willing to play a larger game?" A strong and resounding "YES," completely shook the room!
Marc then outlined ten core principles of what he called "outrageous entrepreneurship" which completely re-defined the role of the entrepreneur in the modern world. Marc gave enormous honor to Paul De Blot, to John Mackey and Raj Sisosdia's work on Conscious Capitalism, and to Ken Wilber and his vision of Integral theory. What was really beautiful was the significant personal honor that Marc gave to all of three of them before launching into his talk. Building upon their work, Marc then gave a stunningly original and ground breaking talk which pretty much left everyone speechless. Prof. de Blot then gave a wonderful talk and presented his meta-perspective on the evolution of consciousness. In the following Question & Answer session, Marc again warmly expressed full honor to Prof. de Blot, and added his own perspectives.
The evening ended with a question about the dangers and opportunities of the Internet. Dr. Marc gave a brief introduction to his newly formed ideas on Digital Intimacy (Stay tuned to our new Portal and Project!) that he is developing together with the amazing Embodied artist Megwyn White – followed by standing ovations and then networking with wine and snacks in a wonderfully open atmosphere. Professor de Blot and Dr. Marc expressed their deepest thanks to Mauk Pieper, Director for Integral Wisdom Europe, for organizing this wonderful day. Thank you, Mauk!