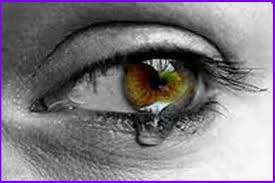 Tears or their absence in every culture across time are considered the signposts of spirit glimmerings of eternity and whisperings of divinity.   Tears are the divine whisper which utters the secret of our destiny in a tear drop. Heinrich Heine cries out in ecstatic rapture, "What poetry there is in tears;" Hebrew Wisdom would add, "What Wisdom there is in tears."
A central mystical practice is to keep a tears journal. Identify the five major episodes of crying in the last twenty years of your life.  Then give voice to those tears. Language them even though their truths are beyond words. You will hear the voice of God speaking directly to you with much of the wisdom, courage and direction you need to guide your life.  For the Zohar when tears are present we know that God is present.
"The Sava wept and his tears fell upon his beard.
He said, Sava, weary in strength,
How wonderful are these tears upon your beard!
They are as wonderful as the goodly anointing oil
That would fall on the good white beard of Aaron.
Speak your words Sava,
For the holy King is present."
The Sava takes the wondrous sight of his tears as a sign that God is present.  For the Sava the presence of tears equals the presence of God.
Thus to understand the language of tears is to know the language of God.
Dr. Marc Gafni
The Dance of Tears
(in press)