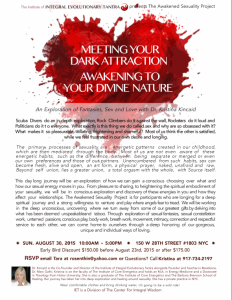 Next weekend Dr. Kristina Kincaid, Director of the Outrageous Love Project at CIW and Co-Founder (together with Dr. Marc Gafni) and Director of the Integral Evolutionary Tantra Institute, is going to teach a workshop on "MEETING YOUR DARK ATTRACTION AND AWAKENING TO THE DIVINE NATURE – AN EXPLORATION OF FANTASIES IN SEX AND LOVE" in New York City. The Integral Evolutionary Tantra Institute is a division of the Center for Integral Wisdom.
Bicyclist do it with ten speeds, Scuba Divers do an in depth exploration, Rock Climbers do it against the wall, Rockstars do it loud and Politicians do it to everyone. What exactly is this thing we do called Sex and why are we so obsessed with it? What makes it so pleasurable, titillating, frightening or shameful? Most of us think the other is satisfied, while we feel frustrated in our own desire and longing.
The primary processes of sexuality are energetic patterns, which are then mediated through the body. Most of us are not even aware of these energetic habits, such as the difference between being separate or merged or even our own preferences and those of our partners. Unencumbered from such habits, sex can become fresh, alive and open, an art form, a physical prayer, naked, unafraid and raw. Beyond self union, lies a greater union, a total orgasm with the whole, with the Universe, with Source.
This journey will be an exploration of how to gain a conscious choosing over what and how your sexual energy moves. From pleasure to sharing, to heightening the Spiritual embodiment of your sexuality, we will be in conscious exploration and discovery of these energies in you and how they affect your relationships. The Outrageous Eros, Awakened Sexuality Project is for participants who are longing for a deep spiritual journey and a strong willingness to venture where angels fear to tread. We will be working in the deep unconscious, uncovering where you turn away from some of your greatest gifts by delving into what has been deemed unspeakable and taboo. Through exploration of sexual fantasies, untamed passions, conscious play, body work, breath work, movement, intimacy, connection, respectful service and a deep honoring of our unique and individual way of loving.
Sunday August 30th, 2015 10:00am-5:00pm at 150 W 28th St. #1803, NYC