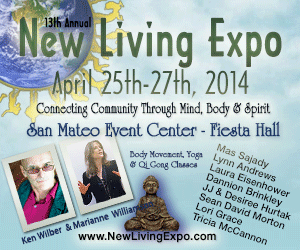 This year Marc Gafni returns to the 13th Annual New Living Expo in San Mateo, CA to join Raz Ingrazi, and Lisa Schrader, Sheva Carr, and Arjuna Ardagh on a panel called "The Future of Spirituality: Connecting Community Through Mind, Body, Spirit".
The panel will be moderated by honored teacher and Wisdom Council member Arjuna Ardagh.
"More and more people today describe themselves as "spiritual" while at the same time turning away from the religions and traditions of the past. As we expand beyond patriarchal and dogmatic way of exploring our true nature and our deepest potential, everything is up for reexamination. What is "enlightenment," and does it have any fixed meaning? Is spiritual practice and expression the same for men and women? Is there any real conflict between a deep spiritual life and involvement in money and the world? What is the relationship between spiritual awakening and social and political action? Are sexuality and intimate relationship a barrier to true awakening, or a portal for deepening?"
"The Future of Spirituality" panel is on Sunday, April 27 at 1-2:30pm in Room 7.
The New Living Expo is a weekend event from event held April 25-27th at the San Mateo Event Center (1346 Saratoga Drive).
We hope you'll come by for this important conversation!
For over 25 years the New Living Expo has brought healing, enlightenment, education and wonder to the San Francisco Bay Area. The Expo draws learners, changers and explorers of alternative thinking and being. The 10,000+ crowd is diverse, engaged, and looking for new and different products and businesses to support their innovative thinking and lifestyles.